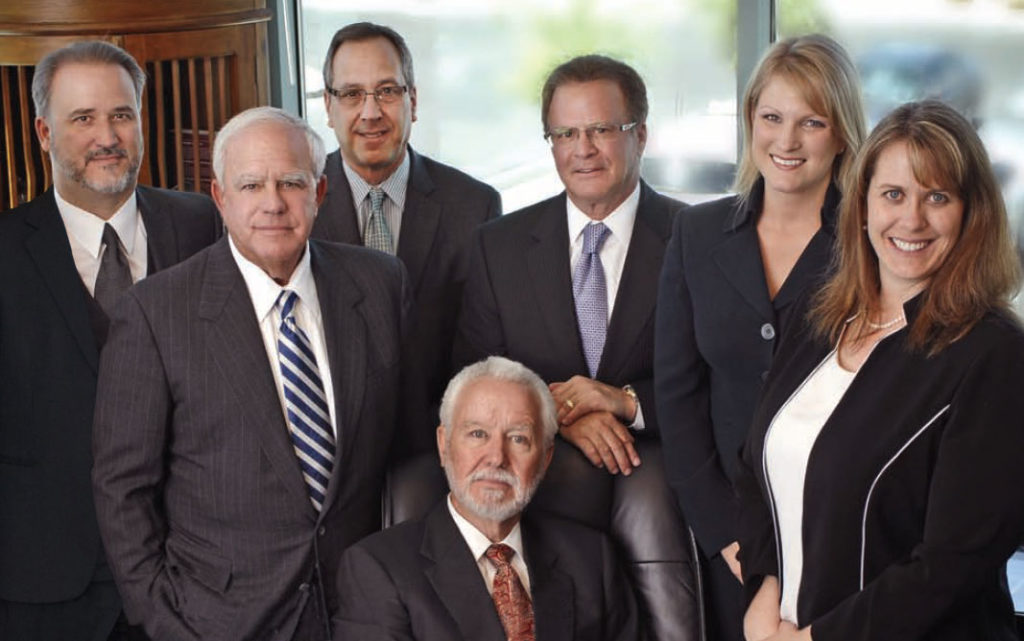 Most law firms are formed by lawyers who want to work together and decide to create a firm. The founders of Christian, Kravitz, Dichter, Johnson & Sluga, LLC, joined forces in Nevada in the mid-90s at a client's request and then decided they wanted to work together.
When a national insurer needed lawyers with expertise in both premises liability and insurance law, the insurer asked Marty Kravitz, Gary Schnitzer and Doug Christian to combine their resources and talents to defend it in the litigation. The synergy of styles provided this client, and many since, with a mix of "Local Experience – National Expertise" that has become the firms byline.
"For my money, there weren't better lawyers in Las Vegas to team up with," recalls Doug Christian. "Marty is a bright, tenacious trial lawyer who knows as much about the Las Vegas legal community and how to get things done as anyone in town. Gary is Marty's counter-balance: thoughtful, deliberate and attentive to every detail. Real estate and corporate matters are a natural for his ability to create order from chaos. Brad Johnson's wide smile and easy manner serve our clients well in the courtroom and negotiations. His ability to focus on the big picture, the desired result, is uncanny. I can't imagine working with better people in Nevada."
Christian, Kravitz, Dichter, Johnson & Sluga, PLC is a Nevada State Bat approved form owned jointly by the Nevada firm, Kravitz, Schnitzer, Sloane and Johnson, PLC and the Arizona firm, Christian, Dichter & Sluga, PC. The joint venture firm is one of a kind. "Because Doug didn't represent any gaming hotels in Arizona, and our Las Vegas practice had been representing hotels, banks and real estate companies since its inception, we didn't feel a merger was practical," said Kravitz. "On the other hand, our insurances practices melded nicely. Thus, the joint venture allowed each of us to manage our respective offices and retain our assets without surrendering daily control. The joint venture allows each firm to contribute just the right combination of layers and resources to provide clients with efficient, individualized attention to their legal needs.
Although the wheelhouse focus of CKDJS is representing Nevada businesses and insurers, it offers a variety of other services, including white collar and financial fraud criminal defense. Steve Dichter is a former Assistant United State Attorney whose practice now includes protecting the rights of individuals and corporations in governmental investigations of financial impropriety. According to Christian, "Steve has considerable 'in the trenches' experience with financial fraud investigations, as well as an intuitive sense of how to cut to the chase and get an optimum result. He has really become a 'Go to' defense lawyer in this area if the law."
Complementing the team are Nevada-licensed lawyers Doug Christian and Gena Sluga. Doug has represented insurers in bad faith and coverage litigation in Nevada since 1994. In addition to their litigation practice, Doug and Gena now advise national and regional insurers on good faith claim practices and help insurers and policy holders interpret the coverage available under commercial and personal insurance policies.
These layers know their communities. Marty Kravitz, Gary Schnitzer and Bradley Johnson are Nevadans who care about Las Vegas businesses and are honored to represent their interests; lawyers who have built their business here, from the ground up and are often called upon to teach other in the profession. Gary graduated from Las Vegas High School and has developed a reputation as a seasoned real estate and commercial litigator. Brad has had extraordinary success trying cases throughout the State. Marty also grew up in Las Vegas and has served the community as Trustee of the Clark County School District and President of the Green Valley Little League.
"We don't like to give home field advantage," Christian observed. "I've been practicing in Nevada for 18 years and still wouldn't want to send one of our Arizona lawyers into a big trial in either Las Vegas or Reno without one of our Las Vegas lawyers. It is a mistake to underestimate the value of local experience."
"Most of us have earned our chops," said Christian. "In various combinations we are honored to be listed in Best Layers in Americatm, Southwest Super Lawyerstm and other credible rating publications. Each of our named partners is Martindale-Hubbell AV rated with a combined experience in excess of 250 years." An "AV" rating is a peer-reviewed assessment of a lawyer's legal skill and professional ethics, and the firms are deemed "preeminent" in a number of legal areas. Partners in the firms are also members of the prestigious Federation of Defense and Corporate Counsel; and Kravitz and Christian have been named Fellows in the American Bar Foundation—an honor given to only one third of 1% of all American lawyers.
This year, MGM Resorts International designation Kravitz, Schnitzer, Sloane & Johnson a "Go To" law firm Fortune 500. "That was something very, very pleasing to us," said Kravitz. "It essentially says, when evaluating all law firms they with, [our client] felt we were efficient, timely and cost effective, and that our work was superior."
The firm's history of success includes large verdicts and settlements on behalf of litigants, and many $0 verdicts defending clients sued for millions of dollars. Moreover, the firm's efforts have helped reshape the legal landscape in opinions rendered by the Ninth Circuit Court of Appeals, and the Nevada Supreme Court in such diverse area as hotel security law, premises liability, defense of punitive damages, trade secrets abuses and insurance law. Kravitz indicated: "We try to develop a firm wide philosophy by making sure we never take on a case which may result in a legal precedent which could prove adverse to interest of our other clients in future litigation."
The growth of the legal and business communities in Las Vegas has led to calls from large national firms and recruiters. Doug Christian explains, "Because of the unique nature of our business model, with a success presence in both Las Vegas and Phoenix, we do get calls about mergers with large firms looking for turn-key office in both cities. Our answer is always the same. We're not interested. We have good layers working for good clients and, hopefully, producing a good product. As long as we have the autonomy to do what needs to be done for our clients, not taking orders from somebody back East, we're happy. So far so good."
The firm has been in Nevada a long time; and isn't going anywhere. Kravitz, Schnitzer, Sloane & Johnson is over 25 years old. "I'm proud of the fact we've been around so long," said Kravitz. "I would like to leave a legacy that even after we retire the firm is going to around. We're building a reputation that we hope will keep our layers in business in Las Vegas for years to come. We're proud of the fact the firm continues to develop a food reputation and we want to that reputation."
Nevada Business Magazine has named Martin Kravitz and Timothy Geswein among the "Legal Elite" in the state of Nevada.
Source: Nevada Business Magazine – Advertorial June, 2012